I want to explain how you can beat the bandits in affiliate marketing. But first, let me tell you about my experience with bandits in the Andes!
My brother and I were on a ten-day road trip through Northern Peru.
.
During our adventure, we..
…were stuck on the Andes mountainside, due to Landslides, waiting for the bulldozers to rescue us.
….lodged in a hotel below Kuelpa that had just collapsed due to a flood. It wasn't open, but they still put us up, in a room where the floor was at a 20-degree slope.
…got mobbed by teenage girls in Cajamarca so that the police had to come to clear a path! (I know, we can't believe it either)
But the one that stands out amongst all the experiences, was being held up by armed bandits!
Bandits
We had been warned not to stop on the mountain road due to bandit activity, but it's kind of hard to keep going when they have a barrier across the road.
As we slowed down, I urgently tried to remove the memory cards from my various cameras. I could always replace the camera, but not the photos!
Once stopped, my brother jumped out of the car, cursing in Kechuan, a local dialect. My brother has an uncanny ability to curse in just about any language.
The sight of this ageing white gringo, swearing in their language, dressed in a Hawaiian shirt and an Indiana Jones hat had them falling about laughing.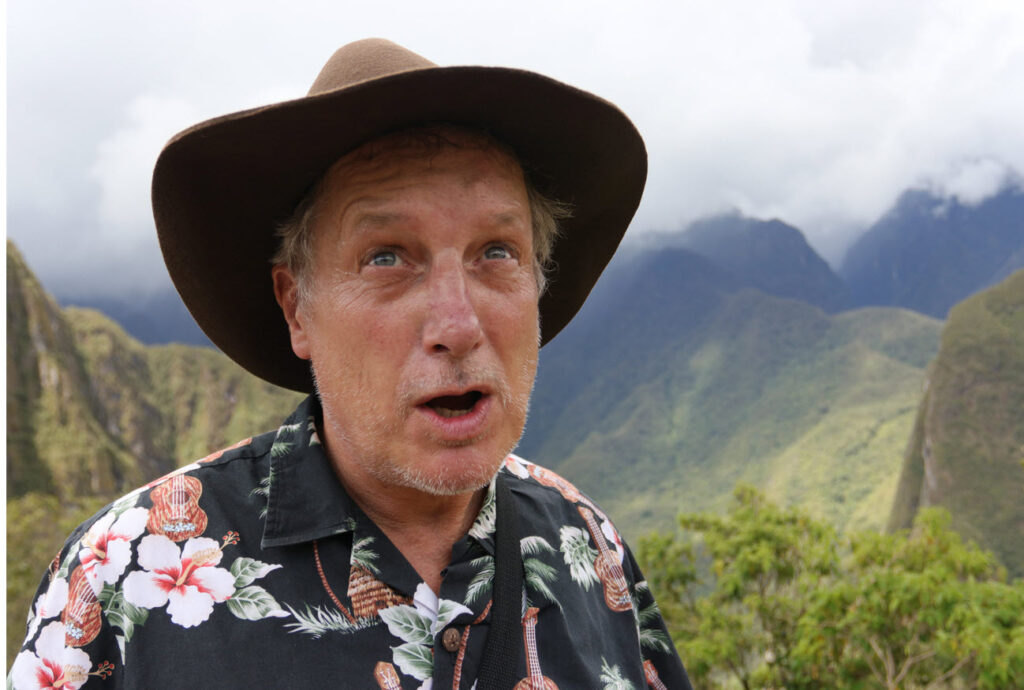 They lowered their rifles and crowded around patting him on the back and insisting he repeated the few phrases he knew again and again.
Negotiating Our Passage
Eventually, my brother resorted to Spanish (which is the only other language apart from English that he is genuinely fluent in.).
After chatting a while we agreed on a narrative and a price to allow us to continue our journey down the mountain toward the Utcubanba river. It went something like this:
"These were dangerous roads, and it was lucky we met up with this volunteer road patrol, who were there to keep the road safe from the bandits, who had guns, and stopped traffic illegally and demanded payment. And by the way… would we like to donate to their efforts to keep the road safe, from…. Well …. people with guns ….who block the road …. and ask for money?"
We paid around $30 and left amid cheers, grins and waves….
So despite the warnings, we made it down the mountain and on to the next village without seeing any bandits at all!
Beat The Affiliate Marketing Bandits
I sometimes think that affiliate marketing can be a bit like that journey, full of either dangers and disaster; or challenges and adventure. It all depends on how you choose to write the narrative.
Certainly, there are charlatans and bandits out there. I have certainly met a few and fallen for their lies! But there are also many very genuine people ready to help. In a moment I will tell you about one of those.
Also, to be honest, it's very difficult to progress unless you are prepared to get out of your comfort zone, pay some money out every now and then and treat every adventure as an opportunity.
In order to beat the bandits though, so that you know that your money is well spent and that the effort you are putting in is not wasted you need to find one of the good guys!
That's exactly what I have done. I have just hooked up with the legendary Michael Cheney to learn how he is able to generate the silly crazy money he does.
If you don't know Micheal, then let me quickly introduce you to him. He is a very very very successful marketer who made his money via being an affiliate initially. Then he started to produce his own products, training and coaching.
He has a genuine passion for helping people, and in doing so he makes a shed load of money!
One Of The Good Guys
He is one of the rare "original thinkers" in the market, and if you have seen any of his emails, or heard any of his stories, you will know exactly what I mean.
I have signed up to his most recent promotion, the ridiculously cheap 7 Figure Affiliate System.
This system takes away all the pain of creating content, supporting products, or even writing emails, its all provided in a proven system that he has refined over the past 14 years.
You can check this out here
Regards
Tony
P.S. Let me know if I can help in any way